For many years, talcum powder (talc) was used on a daily basis in barbershops and homes. While people still use the term talcum powder today, they are really referring to a product now called baby powder, which is primarily made from corn starch instead of actual talc. The product is used as an astringent to prevent or treat skin rashes and as a deodorant. Barbers brush it on customers after using a razor or electric clippers without a guard to prevent minor skin irritation.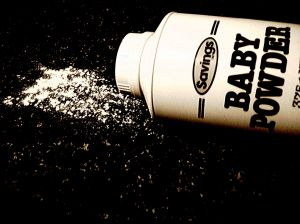 Natural talc has the potential to be dangerous to humans for various reasons. Talc itself is properly called magnesium silicate and has been shown to cause cancer in laboratory animals. However, the larger danger is that talc is a silica compound, which forms in a deep ore environment similar to other silica compounds, such as the six silica compounds that form what we know as asbestos.

As our Boston asbestos exposure attorneys understand, while talc itself is not asbestos, it is often contaminated with asbestos that formed along with magnesium silicate, and asbestos often gets mined together with talc. This translates to asbestos being found in many talc products. While it is easy to think industry executives and scientists were unaware of the dangers of the presence of asbestos in talc ore and the dangers it posed, we now know many companies were knowingly engaging in this risky behavior, because they put profits ahead of workers' safety and customer safety.
According to a recent news article Mercury News, a jury has just awarded one woman $13 million for asbestos exposure from talc. This Los Angeles jury found Colgate-Palmolive liable for the 73-year-old plaintiff's development of mesothelioma. Following trial, it took only two hours of deliberations to make their finding Colgate was 95 percent responsible for plaintiff's fatal cancer. Her husband was also awarded nearly one and half million dollars in damages.
Her exposure was alleged to be due to her use of Colgate's Cashmere Bouquet talcum powder. Her lawyers said this verdict and the trial itself was only getting a company to admit what they should have admitted half a century ago. They were knowingly putting customers in harm's way, so they would not hurt sales. She is now hoping this verdict will let everyone, including those who also may have been harmed by defendant, know what this product has done, and how the company tried to keep this information from the public.
Defendant points to the fact United States Food and Drug Administration (FDA) performed a study five years ago that found none of the cosmetics products they tested contained any evidence of asbestos. However, even FDA pointed out, the complaints or fears of asbestos being present in talcum powder go back to the 1970s, which is far beyond the range of the study.
If you have been diagnosed with mesothelioma, asbestosis, or any other serious respiratory illness believed to be caused by asbestos exposure, you should contact an experienced asbestos injury as soon as possible to see if you have a valid claim against one or more manufacturers of asbestos-containing products or commercial users of asbestos products to which you may have been exposed.
If you or a loved one is diagnosed with mesothelioma in Boston, call for a free and confidential appointment at (617) 777-7777.
Additional Resources:
Jury awards woman $13M for exposure to asbestos in talcum, Apr. 30, 2015, Mercury News
More Blog Entries:
Bostic v. Georgia-Pacific Corp.: Actual and Proximate Causation in Mesothelioma Litigation, July 21, 2014, Boston Mesothelioma Lawyers Blog