A man who was criminally convicted for violation of federal asbestos laws will appeal his four-year sentence — using money from the very taxpayers he reportedly exposed to the fibers.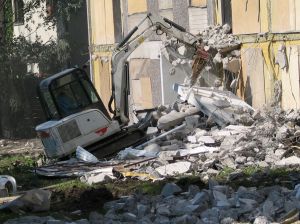 Our Boston mesothelioma lawyers know that criminal charges in asbestos cases are not the norm. Typically, it is either a civil penalty imposed by the government or a civil lawsuit filed by an individual who has been diagnosed with mesothelioma.
Still, it is satisfying when we see justice has been served with regard to an individual who put an entire community at risk. We will see whether his sentence can withstand the appeal process, which would send a clear message to other firms that such conduct will not be tolerated.
According to the local news in Tennessee, where this case arises, this defendant and two others were convicted on federal charges of violating the Clean Air Act, as well as obstruction of justice – the latter of which carries a 20-year maximum penalty. Apparently, the defendants were involved in a major asbestos abatement mess that forced the Environmental Protection Agency and others to pay for an aggressive clean-up back in 2005. A fourth man, brother to this defendant, was also convicted, but died six months prior to the sentencing.
Prosecutors say the brothers founded a small company in 2003 for the purposes of buying an old industrial plant, demolishing it, selling whatever was of value inside and then reselling the property once it had been cleared.
The problem was, there was a large amount of asbestos in all sorts of materials throughout the property. The federal EPA has very strict standards with regard to how such a project must be carried out.
The brothers opened a bid for the asbestos abatement work, and first received an estimated of roughly $215,000. They then got another bid for $129,000. Another bid came in at $30,000. They went with the lowest bid.
Needless to say, the work was not done properly. Workers were seen haphazardly handling asbestos by hand and throwing it into garbage bags. The contractor reportedly hired drug addicts, day laborers and people they found on the street – all of whom were not trained to handle asbestos abatement work, and likely had no idea of the risks they were assuming.
When an inspector from the county's Air Pollution Control Bureau stopped by in the fall of 2005, he said it reportedly looked like an asbestos bomb had exploded. Work was immediately halted and a massive – and expensive – clean-up effort was initiated.
Prosecutors say the likelihood that the workers on that site will develop mesothelioma within 5 to 50 years is "high."
Now, the main defendant in the case, the surviving brother, is trying to appeal his conviction. This would not be out-of-the-ordinary, but for the fact that he is claiming poverty and the need for a court-appointed (and taxpayer-funded) defense lawyer. However, prosecutors contend that while he was undergoing trial, he had transferred ownership of more than 40 real estate properties to his wife.
The court granted him a public defender, with the stipulation that the situation could change if it is later determined he does indeed have the funds to cover his own continued defense.

If you or a loved one is diagnosed with mesothelioma in New England, call for a free and confidential appointment at (617) 777-7777.
Additional Resources:
East Chattanooga asbestos case takes pauper twist, Nov. 23, 2012, By Pam Sohn, The Chattanooga Times Free Press
More Blog Entries:
Massachusetts Attorney General Settles Asbestos Lawsuit, Nov. 24, 2012, Massachusetts Mesothelioma Lawyer Blog