The city of Boston is having trouble finding a developer who is interested in occupying two Boston Marine Industrial Park parcels of land that were once used by the United States Navy as a heavy metal fabrication plant.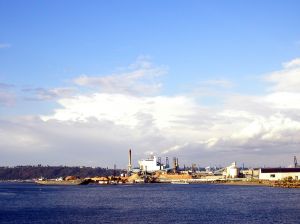 The Boston Herald is reporting that the city is looking for a long-term tenant for the 160,000 square foot building that sits on over three aces of waterfront land. The city wishes to find someone who intends to use the existing building and re-purpose it, rather than demolishing it and constructing something else on the site.
While engineers report that the building is structurally sound, the problem is that it is lined with metal panels that have been impregnated with asbestos. This metal skin poses a significant risk of environmental problems related to asbestos exposure and city engineers believe that anyone who occupies the building will be required to replace all of the panels before the building can be used again.

As our Boston mesothelioma lawyers understand, the asbestos abatement process is very expensive and requires inspections, permits, and the use of a license and certified asbestos removal company.
The city was initially hopeful when they reached a tentative deal with a company that wanted to use the building for a seafood processing plant. This deal would have required the prospective tenant to secure nearly $70 million in financing, but they were unable to do so in the current market conditions, and the deal fell through.
This problem is not unique to Boston or even this project. Many old buildings like this one constructed in the 1940s are laden with asbestos-containing materials, due to the fact that the material is cost-effective and works very well as an insulator from heat, fire, chemicals, and electricity.
The general public now knows about the dangers of asbestos, but these risks were not widely known by people outside of the industry in the late 1980s. Asbestos manufacturers and factor owners knew or should have known based upon information available to those in the industry that workers were constantly being exposed to the deadly fibers, but they did nothing to stop it.
In fact, many in the asbestos industries were actually marketing products they knew to be toxic as being safe to workers to quiet any concerns that may have reached the general public. People were being exposed to asbestos all day at work and then going home in clothing covered in asbestos dust, where they were unknowingly exposing their families to the risk of developing mesothelioma and lung cancer.
The reason they did this was obvious, in that asbestos was cheap and effective, and they were willing to expose unknowing workers to substantial risks. The reason they were able to get away with it for so long was because it can take up to 50 years for workers to develop mesothelioma symptoms.
This wilful and wanton disregard for worker safety, and the safety of their families, is the reason that juries have been willing to award punitive damages in mesothelioma lawsuits that well exceed the compensatory damages sought by plaintiffs.

If you or a loved one is diagnosed with mesothelioma in Boston, call for a free and confidential appointment at (617) 777-7777.

Additional Resources:

Boston eyes tenant for former Navy digs, October 16, 2014, 2014, Boston Herald
More Blog Entries:
Australian Court Awards Highest Verdict for Asbestos Exposure Case in Nation's History, Aug. 31, 2014, Boston Mesothelioma Lawyer Blog