Boston and the surrounding towns in Massachusetts are filled with old buildings. Some of these are three-deckers, offices that have not been renovated in decades, and others are old industrial buildings, such as factories that are not in good enough shape to occupy without major renovations.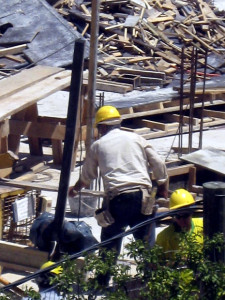 If these old buildings were fully renovated, they would be beautiful and could be used for years to come as condos, offices, and even mixed use residential and commercial.  However, it is very costly to fully make these repairs, because the buildings were built at a time when asbestos was used in virtually every aspect of the construction process, and now it is in a crumbling state, and that is what is known in the asbestos industry as friable asbestos. According to a recent news article from WBUR, demolition workers are becoming increasingly concerned about being exposed to the deadly asbestos fibers. One worker who was interviewed for the article said he was removing a carpet from an old office building in downtown Boston.  While he was pulling the carpet, he saw old and brown tiles glued to the backing side of the carpet.  He had seen tiles like this before and stopped working, because he was concerned these were asbestos tiles.
He immediately told his supervisor that he found what he believed to be asbestos tiles, but his supervisor allegedly told him to keep working and not to worry about the tiles. Out of fear of losing his job, he went back to work, but he also collected some of the tiles and put them in a bag for testing after speaking with a reporter he was working with to get to the bottom of this issue and to find out whether or not the tiles actually contained asbestos.
The tiles were sent to a properly certified and fully accredited laboratory that determined the tiles did contain asbestos.  There was enough asbestos that the law requires all workers to wear certified respirators.  However, his employer allegedly only provided him with a standard dust mask that did not contain HEPA filter cartridges as required by law. This worker said he was not trained to handle asbestos and was upset that is employer had allowed him to do the work without proper training or safety equipment.
This problem is certainly not confined to the Boston or the Commonwealth of Massachusetts, but lawmakers here are concerned about the large number of safety violations that are being discovered each year.   In fact, there were more than 300 asbestos violations reported here in the past five years, and there are likely many more that will go unreported. It is important to make sure that none of these incidents go unreported.  For this reason, if you are exposed to deadly asbestos fibers, you should contact an experienced Boston mesothelioma attorney as soon as possible to see if you have a valid case.
It is also important to make sure that you document any suspected asbestos exposure and make sure you report the concerns to your employer.
If you or a loved one is diagnosed with mesothelioma in Boston, call for a free and confidential appointment at (617) 777-7777.
Additional Resources:
Concerns About Cancer-Causing Asbestos Rise Amid Mass. Renovation Boom, December 20, 2016, By Beth Daley, Martha Bebinger, and Colby Burdick, WBUR
More Blog Entries:
Rondon v. Hennessy Industries, Inc. – "Inevitable Use" Standard in Asbestos Litigation, July 2, 2016, Boston Mesothelioma Attorney Blog