The June tornadoes that ripped through Springfield and other parts of western Massachusetts destroyed buildings — killing three people.
But as the Daily Hampshire Gazette recently reported, along with the destruction, the tornadoes may have opened up a secondary public concern with exposure to asbestos. Because many of the buildings in Springfield are several centuries old, many were build with asbestos.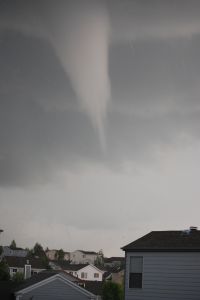 Asbestos has never been officially banned in the United States, but companies have wisely discontinued its use after it became linked to illnesses and cancer, such as mesothelioma. Buildings constructed centuries ago and into the 1970s may have contained asbestos. It was used because of its ability to insulate and be a fire retardant.
And workers in older buildings and factories, as well as Navy seaman, may have been exposed to the natural mineral for years. The U.S. military was a heavy user of asbestos. But asbestos is tricky in that exposure is difficult to detect because it is microscopic and can be ingested or inhaled and sit inside a person for up to 40 years without being detected. After attaching to major organs, such as the heart and lungs, it can lead to a diagnosis of many illnesses, including mesothelioma. Mesothelioma patients have an average life expectancy of 12 months after diagnosis.
According to the article, there were an estimated 500 buildings destroyed in Springfield after tornadoes, one with maximum winds of 160 mph, wreaked havoc on a 39-mile path in about an hour. Debris was found as far away as 40 miles.
Immediately following the tornado, with many buildings collapsed, there was a risk to public health from airborne asbestos fibers.
"During the demolition, we monitored the air quality in downtown Springfield and all the results were well within health and safety standards," said Catherine Skiba, spokeswoman for the Western Massachusetts regional office of the Department of Environmental Protection.
While there may be standards for the air quality, it's unclear from the article exactly how frequently the air was tested and when. The article also only addresses Springfield and not the neighboring towns.
Cleanup crews from throughout the region that came to help could have been exposed to asbestos in older buildings that collapsed. Emergency responders to Ground Zero in New York following the Sept. 11, 2001 terrorist attacks were said to be exposed to high concentrations of asbestos.
While it would certainly be good news if those living in tornado-damaged towns and cities weren't exposed to high levels of asbestos, it may be prudent to see a doctor anyway. For those who have lived in New England and visited, worked in or lived in centuries-old buildings, exposure to asbestos may be ongoing without us even knowing it.

The Law Offices of Jeffrey S Glassman provide representation of mesothelioma victims who have been unlawfully exposed to asbestos in Boston and the surrounding areas. Call (617) 777-7777 for a free and confidential consultation to discuss your rights.
More Blog Entries:
$22 Million Verdict Against Goodyear Shows Devastating Effects of Asbestos Exposure in Boston: July 16, 2011
Additional Resources:
June tornadoes had environmental impact, damaging thousands of trees, by Nick Grabbe, Daily Hampshire Gazette