Ford Motor Co. could face nearly $42,000 in fines for its alleged failure to protect workers who came in frequent contact with asbestos-containing materials.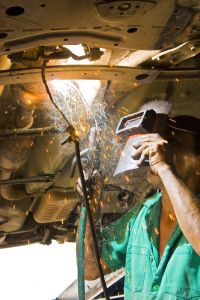 Our Boston mesothelioma lawyers are glad that the U.S. Occupational Safety & Health Administration took the time to investigate the issue and returned a finding that ensures greater attention on lack of worker protections. However, the fact of the matter is that $42,000 is not nearly enough for what these workers will have to endure if indeed their exposure to this toxic material later manifests itself in chronic health issues or, even worse, a terminal diagnosis of mesothelioma. These health issues often don't surface until many years, sometimes decades, after exposure.
Cases like this reveal why, even though asbestos is no longer as widely used as it once was, we are likely to see asbestos liability claims for many decades to come.
OSHA cited Ford for eight serious violations relating to its respiratory protection standards for employees handling asbestos. Employees at the plant were responsible for producing stamped metal parts for vehicles.
A serious violation, by OSHA's standards, is one in which there is a substantial probability of serious physical harm or death and that the employer either knew or should have known about that danger and taken action to prevent it or protect workers.
OSHA alleges in one case, an employee who worked as a pipe fitter was conducting repairs to a steam line. That line contained asbestos in the insulation. However, the worker was not warned of the presence of asbestos, nor was he given the proper respiratory protective gear that should have been provided for such work.
In other cases, respiratory protection gear was not worn by workers who were regularly coming in contact with asbestos-laden materials and furthermore, they weren't working in an area that was properly regulated, marked and ventilated, so as to minimize the number of individuals in the area and also to mitigate the risks to those who would be working there. In some cases, work with asbestos was not limited to authorized individuals. There was no ongoing monitoring of air quality levels while the work was going on, so the company is unable to say how many workers may have been exposed.
In situations where workers might be exposed to asbestos, it is the responsibility of the employer to ensure there are safeguards in place that are both proper and effective at all times.
Ford denies it has done anything wrong.
The auto manufacturing industry has along history with asbestos, as many automobile parts, including gaskets, brake pads and shoes, internal combustion compartments and hundreds of other components have been known to contain asbestos. That's why we so often see plaintiffs who previously worked as mechanics and in car factories now suffering from mesothelioma and asbestosis.
Although asbestos use has declined significantly since the 1970s, the auto industry is not completely weaned off of it, and sometimes even newer parts still contain parts made with asbestos.

If you or a loved one is diagnosed with mesothelioma in Boston, call for a free and confidential appointment at (617) 777-7777.
Additional Resources:
U.S. cites Ford for asbestos violations at Buffalo plant, July 18, 2013, By Adam Rubenfire, Automotive News
More Blog Entries:
State Supreme Court Relieves Asbestos Defendant of Duty to Warn, July 5, 2013, Boston Mesothelioma Lawyer Blog