Though the risks of asbestos exposure are well-documented, there continues to be the potential for exposure in Boston and nationwide. City, state, and federal regulations are in place to limit the risks of exposure and to ensure that individuals and entities remain accountable when handling or removing asbestos. In a recent case that demonstrates the very real risk of modern asbestos exposure, a building company and its owners were fined $37,625 by the state Department of Environmental Protection for failing to follow safe and legal asbestos removal procedures.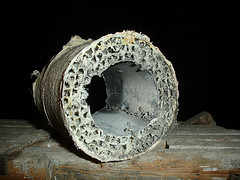 According to reports, the Town and Country Builders located in Whitinsville were under inspection in December 2012 by the Department of Environmental Protection (DEP). The agency found that the building company had improperly removed 100-feet of insulation pipe that contained asbestos from a multi-family residential property. Failing to safeguard the premises and failure to follow regulations could have put residents at risk of asbestos exposure. Our mesothelioma plaintiff attorneys are dedicated to helping asbestos exposure victims protect their rights. We will investigate mesothelioma diagnoses to determine the original source of exposure and to hold responsible individuals and entities accountable.

Inspectors found that there were pieces of dry asbestos-containing insulation on the basement floor of the property, unmarked and illegally uncontained. There were other violations, including insulation that had not been wetted to prevent particle formation. Additionally, the work area had not been sealed off, and there were no air-filtration units as required by the DEP. Another violation occurred, as the building company had not given advance notice to the DEP of the asbestos removal project. This is a mandatory action under Massachusetts state law. Requirements for asbestos removal are very specific and strict because the risks posed by asbestos are so high. Even minor exposure to asbestos can result in deadly mesothelioma diagnosis years or decades after the exposure.
The inspectors required that the company owner immediately hire a state-licensed asbestos contractor to legally and properly handle, manage and dispose of the asbestos in the yard. The state-licensed asbestos removal company was also responsible for getting rid of additional waste, cleaning up the area, and decontaminating all areas of the property affected by asbestos. This very thorough and aggressive clean-up process is necessary to prevent additional exposure to workers, residents, and other passersby.
According to DEP regulations, the company should have given advance notice of the removal project. The building company also should have taken legal and proper steps to remove, handle, package, label and dispose of the hazardous asbestos materials. The protocols are in place to prevent the release of toxins and asbestos fibers, which can cause fatal exposure. In addition to keeping fibers contained, the builders should have issued a warning to the residents. The DEP fined the company $37,625; however it agreed to suspend a portion of the penalty if the company does not have any additional violations for a year. Though fines are one way to hold companies liable, victims of asbestos exposure can also take civil legal action and collect compensation for negligent asbestos exposure.
Call Jeffrey Glassman Injury Lawyers for a free and confidential appointment — (617) 777-7777.
More Blog Entries Japanese Study Finds Chemo Still Best Treatment for Mesothelioma, April 25, 2014, Boston Mesothelioma Lawyer Blog Advocacy for U.S. Navy and Military Veterans With Mesothelioma, March 17, 2014, Boston Mesothelioma Lawyer Blog