Mesothelioma cases can involve very complex litigation.  There are variety of different aspects of these cases that can complicate these matters.  One of the more difficult aspects, is that it is hard to determine exactly who manufactured the asbestos products that resulted in the plaintiff developing malignant pleural mesothelioma (MPM), for example.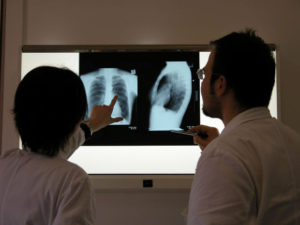 The reason for this is because, while a plaintiff may know he was working with a joint compound that contained asbestos, it would be necessary to figure out who provided the particular product at issue in that case.  One way to do this is by also suing the other parties who were responsible for purchasing the substance and providing it to the plaintiff who ultimately became sick from asbestos exposure.
In the case of joint compound, for example, a product known as Gun Plastic Cement was a likely source of asbestos. However, that is not the only manufacturer of joint compound. Additional research may be required by your Boston mesothelioma injury lawyer.
In addition to finding out the actual companies that caused the plaintiff's injuries, there is high likelihood that the companies are no longer in business.  Many of these producers of asbestos have declared bankruptcy over the years and have been purchased by other companies over the years.  There are also issues with asbestos damages trust funds set up, and insurance policies to cover future damages that can complicate these matters. For that reason, it is important to make sure your asbestos injury attorney handles these matters on a regular basis and is familiar with these issues and can help to get you a full and appropriate financial recovery.
A recent news article from Business Insurance looks at a federal mesothelioma case that involved what is essentially a fight between different insurance companies and business owners as to the issue of who would be responsible for paying out the claims to mesothelioma victims.
In a typical personal injury case, a plaintiff is injured and is immediately aware of the injury. In some cases, such as those involving medical malpractice, the patient may have been injured during a medical procedure but did not learn of that injury until years later.  There have been cases where a patient learned that the doctor had left a surgical tool inside his or her body from an earlier operation.  The statute of limitations would normally preclude a plaintiff from filing a suit years later, but when injury could only be discovered years later, the statute of limitations can be tolled by what is known as the discovery rule.
Since it generally takes between 20 and 50 years for a person to become sick after being exposed to asbestos, the average lawsuit is filed decades after initial exposure.  In the asbestosis insurance business, these are known as "long-tail litigation" cases.  In this recent case, the court ruled in favor of the policy holders being allowed to use a particular calculation method know as "all sums."  This is only one issue that could have an effect on how much a plaintiff recovers, since some businesses no longer have sufficient cash reserves on hand.
If you or a loved one is diagnosed with mesothelioma in Boston, call for a free and confidential appointment at (617) 777-7777.
Additional Resources:
Court sides with policyholders in complex litigation over asbestos claims, May 4, 2016, Business Insurance, By Judy Greenwald
More Blog Entries:
Holyoke Energy Company Gets Tax Incentive for Expansion and Asbestos Abatement, April 2, 2016, Boston Asbestos Lawyer Blog