Resident's of Boston's Jamaica Plain neighborhood are extremely worried about asbestos exposure during demolition of the Casey Overpass, according to a recent news article form the Jamaica Plain News.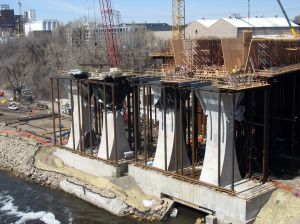 The Casey Overpass is part of Boston's Arborway, which was part of Fredrick Law Olmsted's plan in the 1890s to construct a carriageway connecting a series of parks, which have come to be known as the Emerald Isles. While the roadway was originally a great enhancement to the city, modern development and heavy traffic has far surpassed the capacity of the roadway, leading to a need for a massive overhaul of the aging transportation system.
As part of this overhaul, Commonwealth officials proposed demolishing the existing Casey Overpass, which is apart of the Arborway. This has many residents concerned they will be exposed to cancer-causing asbestos dust during the demolition project.

In response to these fears, Commonwealth officials are saying they have conducted extensive inspections and determined asbestos is not present in the overpass structure. They are aware the metal support beams may, however, contain lead paint, which can also cause a problem during demolition. If lead paint particles are released into the environment, it can be devastating. To prevent lead contamination, officials say the structure will be cut down in sections and taken way by truck to an approved disposal facility. They may also paint over the peeling lead paint to temporarily seal the beams during removal as an added precaution.
Despite these assurances, some residents are still concerned about asbestos exposure. One resident wants to know how city officials would "dare to come into [their community] and try to poison [their] children."
Mesothelioma attorneys in Boston know why these citizens have reason to be concerned. If asbestos fibers are inhaled, they can become embedded in a protective layer of the lungs, chest, abdomen, and other organs known as the mesothelium. Once there, over a period of typically 20 to 50 years, they can metastasize into a deadly form of cancer known as mesothelioma. They can also cause severe scarring to the tissue of lungs, known as asbestosis, and cause other serious respiratory illness that is equally as deadly.
Another resident is concerned that, even if there is no asbestos, the overpass may contain a substance known as crystalline silica. Crystalline silica is a naturally occurring material found in granite and other materials used in bridge construction of the time period that, if inhaled, can cause serious respiratory illnesses, including damage to the lung tissues. In cases of classic silicosis, it takes between 15 and 20 years to develop severe respiratory illness after exposure to low amounts of the toxic material. In cases of higher levels of exposure, doctors have seen cases of accelerated silicosis, which can develop in as little as five years, causing devastating and potentially fatal health effects to victims.
The United States Occupational Health and Safety Administration (OSHA) estimates as many as 2 million workers are exposed to dangerous levels of crystalline silica each year, especially those who work on or around sandblasting projects.

If you or a loved one is diagnosed with mesothelioma in Boston, call for a free and confidential appointment at (617) 777-7777.
Additional Resources:
Crews Vow to Contain Casey Dust; Some Residents Skeptical, March 11, 2015, Jamaica Plain News
More Blog Entries:
Bostic v. Georgia-Pacific Corp.: Actual and Proximate Causation in Mesothelioma Litigation, July 21, 2014, Boston Mesothelioma Lawyers Blog