Getting a mesothelioma diagnosis essentially amounts to a death sentence. Most patients who receive such a diagnosis have stage 4 malignant pleural mesothelioma (MPM), and are told they have only a year or so left to live.  There are various treatments, but they are often very painful, invasive, and far from a cure. Even in the best of cases, they typically only extend a patient's life a matter of months and at the cost of their quality of life.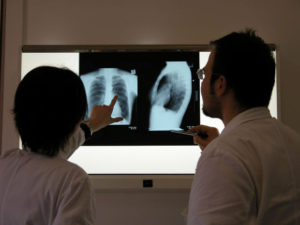 However, according to a recent news article from EHS Today, one woman was diagnosed with malignant mesothelioma just three months after her daughter was born.  She was initially told she had no more than 18 months left to live due to the advanced stage of the cancer and aggressive nature of the disease. She chose to fight and has been doing so for the past 11 years. This is far from common, and she has chosen to dedicate her life to asbestos and mesothelioma awareness.
One of the reasons her case was different than many others is because she was only 36 at the time of her diagnosis. As our Boston mesothelioma attorneys can explain, it typically takes between 20 and 50 years for the deadly asbestos fibers to metastasize into malignant mesothelioma, so we are normally dealing with much older victims, and most of these victims became sick from occupational exposure to asbestos. This is unlikely with a victim who is only 36.
In some cases, it was the worker who came home from work still covered in deadly asbestos fibers and caused his or her family members to become exposed to the fibers.  If a child is exposed to these fibers at the age of six, then she might become sick by the time she turned 36.  In the law, these cases are called take home asbestos cases, because a loved one in the same household took the asbestos fibers home.
While there are certainly many interesting aspects of this victim's treatment, for this post, we will focus on legal issues surrounding take home asbestos cases. One of the main issues deals with the duty of care.  There are many complex aspects of a mesothelioma case, and there really isn't a "typical" case; however, all of the cases ultimately deal with the tort of negligence in some form or another.
The first element in a negligence case is the duty of care.  A defendant owes the duty of care to anyone that is in the zone of danger.  The worker who actually handled or was otherwise exposed to the asbestos was clearly in the zone of danger.  However, there is a more nuanced issue of whether the worker's child was a foreseeable victim.  There is no easy answer to this question, because the facts in every case are never the same, and the situation will vary form case to case. For that reason, you should speak with an experienced asbestos injury lawyer about the facts of your actual situation to see if a duty of care was owed.
If you or a loved one is diagnosed with mesothelioma in Boston, call for a free and confidential appointment at (617) 777-7777.
Additional Resources:
Heather Von St. James: Why I Fight, May 23, 2017, By Heather Von St. James, EHS Today
More Blog Entries:
Treating Mesothelioma and Other Asbestos-Related Cancers, Feb. 14, 2017, Boston Asbestos Exposure Attorney Blog