The Boston Globe recently examined a park that has evolved into a haven for biking – despite once serving as a munitions storage facility for the U.S. Navy in WWII. During the 1930s and 1940s, the site was heavily contaminated asbestos.  It has not been an easy transition from weapons depot to bike haven.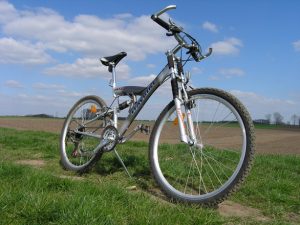 The most affected portion of this park is situated in the middle of what is now part of the bike trials.  This area was known as the annex area by the Navy and was surrounded by a fence after the munitions depot closed. After it was sold to the state, it remained closed for safety reasons.However, after years of work by members of the community, including several bike riding groups, the state agreed to fund the massive cleanup effort that would be needed.  This included demolishing the old munitions storage buildings, checking the area for old and unsafe munitions, and a great deal of asbestos abatement. There is still one area that has not been reopened.  This area covers about 7 acres and was the location where the Navy would destroy older munitions.  It was very heavily contaminated with explosive materials as well as asbestos, and the state decided it would be too costly to clean up.  The area is still surrounded by a security fence, and people are warned to stay away.
While it is unlikely that anyone will be endangered from riding a bike or otherwise using the newly opened public space, it is very likely that citizens or service members were exposed to the deadly asbestos fibers while working at the munitions supply depot when it was open.  As out Boston asbestos attorneys can explain, former service members, whether they served 20 years and retired, or only served a three-year tour, were exposed to high amounts of asbestos during much of their careers.
The military was one of the largest consumers of asbestos, and among the various branches of armed forces, the U.S. Navy used the most.  There are a variety of reasons for this, but the main reason is that there are few things worse than a fire at sea. When Navy veterans worked on ships at one of the many shipyards like the Boston Navy Yard, they were constantly being exposed to deadly asbestos fibers.  After working on the ships, many personnel served aboard the ship during sea trials.  Even though the boat was deployed, it was still being constructed, and this led to more asbestos exposure.
If you are service member who has been diagnosed with mesothelioma, the first thing you will need to do is to file a claim for benefits with the Department of Veterans Affairs (VA).  This can be fairly complicated, so it is best to speak with a mesothelioma attorney who has experience dealing with these types of cases.  It should also be noted that the military will not accept liability for exposing you to asbestos, as they take the position it is the manufacturers of asbestos components and asbestos itself that are responsible.
If you or a loved one is diagnosed with mesothelioma in Boston, call for a free and confidential appointment at (617) 777-7777.
Additional Resources:
Friends show off Wompatuck, a haven for biking, May 12, 2017, By Robert Knox, Boston Globe
More Blog Entries:
Treating Mesothelioma and Other Asbestos-Related Cancers, Feb. 14, 2017, Boston Asbestos Exposure Attorney Blog