A defense verdict in a recent mesothelioma lawsuit in Arizona resulted from a claim alleging illness caused by asbestos in cement pipes.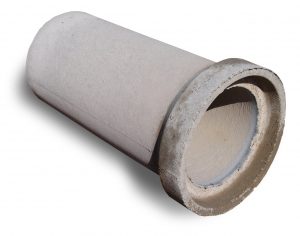 Cement piping produced in the U.S. and Canada for several decades beginning in the 1930s often contained a mixture of cement and asbestos fibers. The pipes were durable and corrosion-resistant. But of course, asbestos is extremely toxic. Standards for asbestos cement piping in municipal water systems wasn't enacted until 1953 by the American Water Works Association. Many of these older pipes, which have a stated shelf life of 70 years, are still being used in cities throughout America, even for delivery of drinking water. Many are slated for replacement, and the potential for new exposure of workers during the pipe breakdown and removal process. That's because while the pipes may not be corroded to the point they pose a danger to our drinking systems (though this may depend on local environmental issues), the fibers are extremely hazardous during breakdown because the fibers have the potential to become airborne.
In the recent Arizona case, Herrera v. CertainTeed Corp., original plaintiff had worked as a pipefitter. His family filed a wrongful death lawsuit against the building materials company after he developed cancer following years of inhaling dust kicked up by his work sawing asbestos cement pipes.
Jurors rejected plaintiffs' allegations that the materials supplier was aware (or should have known) their cement pipes containing asbestos posed a health risk to workers, but failed to adequately warn them. The family had been asking jurors for $5 million in compensatory damages and unspecified punitive damages, according to CVN. 
Challenges in Mesothelioma Litigation
The outcome of this case is undoubtedly deeply upsetting for the family of this worker, and we know full well exposure to asbestos is the only known cause of mesothelioma. However, it's no secret that asbestos litigation is not only extremely complex, but also chalk full of uncertainties. That's why it's imperative that you have an experienced and well-resourced mesothelioma law firm in Boston if you're going to be successful in these cases.
The American Academy of Actuaries reports at least 27.5 million Americans have had significant occupational exposure to asbestos in industries like construction and shipbuilding, while tens of millions more were exposed in other types of industries.
One of the biggest hurdles to overcome is the fact that an individual person's disease may be caused by exposure to multiple asbestos products over the course of many decades, making it very difficult to pinpoint the specific causal exposure. That's why so many Massachusetts mesothelioma lawsuits name a laundry list of defendants – sometimes 60 or more. RAND Corporation has estimated there are approximately 8,400 defendant companies in asbestos exposure lawsuits – and that figure may be growing as we continue to uncover more points of exposure.
And to be clear: These cases are not impossible. There were at least $70 billion in asbestos claims paid as of 2006, and that number has also continued to climb. Many defendant companies have filed for bankruptcy, which is another challenge, though plaintiffs may have the option of filing a claim with the bankruptcy trust – and there are dozens of them.
However, a lot of companies that may have initially been inclined to settle these cases, figuring liability a foregone conclusion, have been working hard to find new defense strategies that will help them prevail. As this case shows, they are sometimes successful. Understanding why is important to avoiding those same pitfalls in future mesothelioma lawsuits.
The Herrera Case
In the Herrera case, defendants were successful in raising doubt about the sufficiency of the evidence plaintiffs presented to assert it was exposure to defendant's pipes that primarily caused his developing mesothelioma.
Decedent had started working for a city contractor in Phoenix back in 1977, specifically focusing on public water systems. His lawyers presented evidence decedent regularly sawed through asbestos-laden cement pipes, in turn inhaling large amounts of dust filled with asbestos. Decedent died before he was able to give a deposition (another challenge in many of these cases), which meant plaintiffs had to rely heavily on the testimony of his former co-workers. Defendant manufacturer argued these accounts were no more than "vague recollections." Co-workers did say he cut with pipes, but weren't able to say with certainty that he worked with pipes supplied by the defendant.
Although there was a great deal of evidence indicating the product supplier did know about the potential hazards of asbestos exposure during the 1970s, defense attorneys were able to turn it around and assert liability rested chiefly with decedent's former employer, who owed a duty to train its employees in how to work safely with cement pipes containing asbestos. In fact, attorneys with the defense stated during closing arguments that defendant expressly warned its customers to avoid slicing through these pipes with power saws, as well as steps they should take to reduce the amount of asbestos dust that would be generated in cutting these pipes.
Ultimately, the jury agreed.
Asbestos Abatement for Pipe Repair
As we move ahead with asbestos exposure litigation related to cement piping, we may see a new wave of cases in the future involving those in charge of asbestos abatement.
The Massachusetts Department of Environmental Protection in 2015 issued an asbestos pipe guidance document and conditional enforcement directive designed to protect workers. The paper noted that asbestos cement pipes are often found in Massachusetts underground utility conduits and municipal water, sewer and drainage systems. If in good condition and underground, these pipes generally aren't considered dangerous because the asbestos isn't friable. However, if the pipe is exposed and disturbed, then it becomes a health hazard.
The 23-page document issues directives on pre-demolition and renovation survey procedures, notification to state environmental officials, required licensing and training, best handling practices and how asbestos waste materials should be packaged, labeled and disposed of. Companies that fail to abide these standards and protect worker safety could find themselves facing state-imposed fines, criminal action and civil liability.
If you or a loved one is diagnosed with mesothelioma in Boston, call for a free and confidential appointment at (617) 777-7777.
Additional Resources:
Jury Clears CertainTeed Corp. in $5M+ Asbestos Wrongful Death Lawsuit, Feb. 14, 2018, By David Siegel, Courtroom View Network
More Blog Entries:
Appellate Court Re-Opens Asbestos Wrongful Death Lawsuit Against Fertilizer Manufacturer, March 1, 2018, Massachusetts Mesothelioma Law Firm Blog