In In re: New York City Asbestos Litigation, a mesothelioma case from the New York Court of Appeals, court records indicate defendant sold valves to the U.S. Navy.  These valves were designed to be used under high pressure and in high heat situations aboard naval ships.  The valves themselves did not actually contain asbestos or any other hazardous materials.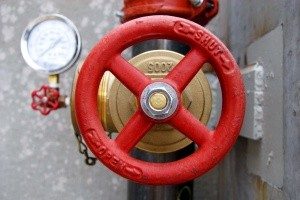 However, these valves would not work properly under the expected conditions unless a gasket was used along with the valve as well as insulation and a packing material for the valve stem.  These gaskets and insulation were made from asbestos, and the instructions that came with valves called for the use of this asbestos material.
When defendant sold their valves to the Navy, they were packaged along with rubber-coated discs of asbestos and asbestos sealant and insulation material that was primarily made from asbestos. The company also knew that these asbestos parts would wear out and breakdown over time and that they would have to be replaced by Navy personnel.   The defendant owned another company that manufactured an asbestos product that its customers could use to make their own replacement parts.   The company began selling these parts to the Navy and told them it was an economical way to maintain ships.
In the 1930's, a trade association of which defendant was a member was telling its membership that handling asbestos could be hazardous, and, by the 1960s, the association told its members that exposure to asbestos could cause a rare type of cancer known as mesothelioma.
As our Boston mesothelioma attorneys can explain, the reason there are such high verdicts in these types of cases is because there is now definitive proof that these companies were aware of the dangers to workers and the general public.  Not only did these companies avoid telling the public of the dangers of asbestos, many companies actually took steps to disseminate false information claiming that asbestos was actually a safe product.
This particular defendant did not provide any warning about the dangers of asbestos until the 1980s.  A technician for the Navy who developed mesothelioma sued defendant, and the court instructed the jury about the duty to warn of known dangers from foreseeable use of an asbestos product if the manufacturer knew or should have known the dangers of asbestos.
Following a trial, the jury found the defendant liable for virtually all of plaintiff's damages and awarded plaintiff $32 million in damages. Defendant appealed this ruling on grounds that they did not have a duty to warn of the danger of risk created by a third party.  In other words, the defendant was claiming that since their valves did not contain asbestos, they had no duty to warn the plaintiff, even if they knew the valves would be used with asbestos.  In this case, they actually shipped the asbestos parts.
Fortunately for the plaintiff, the state's highest court agreed with the trial court and affirmed jury verdict. There have been various cases in which a manufacturer knowingly used another company's asbestos product, did not warn the plaintiff and then tried to escape liability since they did not technically manufacture the asbestos product.
If you or a loved one is diagnosed with mesothelioma in Boston, call for a free and confidential appointment at (617) 777-7777.
Additional Resources:
In re: New York City Asbestos Litig., September 15, 2016, New York Court of Appeals
More Blog Entries:
New Effort to Strengthen Asbestos Litigation, June 28, 2016, Boston Mesothelioma Lawyer Blog