A recent Colorado apartment fire led to 126 people being out of a home after officials found widespread asbestos in the structure of the building, ABC News is reporting.
Asbestos was discovered in Springfield and throughout Massachusetts after tornadoes ran through the area this summer. When buildings get knocked down due to powerful storms or other natural disasters, they can be exposed for what they really are.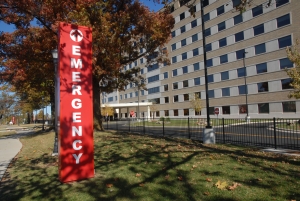 Not every apartment building in New England has asbestos, but many do. Proving that a company knowingly used asbestos and ignored the health risks can be a challenge. Visiting a doctor who specializes in asbestos-related diseases and illnesses is the first step. If diagnosed with mesothelioma in New England, contacting an aggressive Boston mesothelioma lawyer to fight for your rights is the second.
Companies must be held accountable for their actions. If they knowingly used asbestos in building structures and in making products for consumers and people got sick as a result, they can't get away with it. But it takes extensive research in order to prove a person truly was injured by asbestos from a specific company and not from outside factors.
Families shouldn't have to lose their loved ones too soon because they are diagnosed with a preventable form of cancer. Once diagnosed, most people only live about one year. Yet, asbestos exposure can happen years or decades earlier. It is one of the slowest-moving forms of cancer and stays hidden until the symptoms become clear — persistent coughing, fluid build-up and chest pain, among others.
By that point, it's largely too late and the person's fate is sealed. But that doesn't mean the fight ends. An aggressive Boston mesothelioma lawyer will seek justice, even when the loved one has passed away.
In the Colorado incident, a fire broke out after an alleged case of arson. The apartment complex was left damaged and officials discovered hazardous asbestos contamination levels after the fire. Residents, after hearing about the discovery of asbestos in the apartment, now are concerned about their health because they had to rush through thick smoke to get out. The smoke may have contained asbestos, ABC News is reporting.
Firefighters were forced to rescue 20 residents from the three-story apartment building in Aurora. Four people were transported to a hospital to be treated for smoke inhalation. It's unclear if any of the residents have been looked at for asbestos exposure related illnesses.
While asbestos isn't used in the United States anymore, it hasn't been banned. While environmental agencies have sought to regulate its use and cleanup buildings that used it in the past, they have been only somewhat successful.
Many buildings, especially those built decades ago, still have asbestos in them and can possibly harm people who are exposed to the asbestos therein. Many workers from the 1950s, 60s and 70s are now feeling the effects of asbestos exposure with mesothelioma diagnosis today. Exposure risks are particularly acute for those involved with the construction or demolition of such structures.

Jeffrey Glassman Injury Lawyers provide representation of victims exposed to asbestos who have been diagnosed with mesothelioma in Boston and throughout Massachusetts and New England. Call (617) 777-7777 for a free and confidential consultation to discuss your rights.
More Blog Entries:
Firefighters, Volunteers After 9/11 Could Have Been Exposed to Asbestos: September 9, 2011
North Reading Prepares to Remove Asbestos From Schools: September 5, 2011
Additional Resources:
126 Apartment Residents Displaced After Fire Reveals Asbestos, by Alan Gahtright, 7News