According to a recent news article from the North Jersey Record, a Boston real estate development group has plans to demolish an old snack food factory and turn it into a high-end distribution facility. However, before they begin demolition, they must get the proper permits, and that involves dealing with the asbestos present in the building that was built in 1969. This was a time when asbestos was very commonly used in construction due that fact that is a cheap and effective material that is naturally resistant to fire, electricity, and caustic chemicals.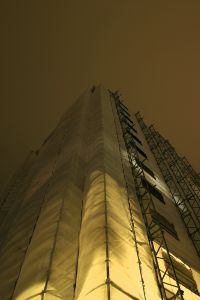 Lawyers in Boston who regularly handle mesothelioma lawsuits know the importance of handling the asbestos remediation process properly. The law requires that an assent or survey be performed by a company certified in asbestos removal. Once the survey is complete and submitted, the developers must obtain a permit. Only after this is complete can demolition work commence.
While there is no question that asbestos fibers cause a deadly form of cancer known as mesothelioma, lung cancer, and other serious respiratory illnesses, it is generally considered safe after being installed in a building. It was during the installation processes that workers could be exposed. The demolition process poses an even greater risk of asbestos exposure to workers and the surrounding community, due to the destructive nature of the work and the amount of dust that can be released.

It is the job of an asbestos remediation company to prevent this from happening. This may involve going into the building and removing all asbestos before demolition begins, or it may involve encasing the asbestos in a protective material, or both.
As one can imagine, this is an expensive process, and we have seen many instances where property owners tried to handle renovations or demolition without conducting an asbestos survey and without obtaining proper permits. In these cases, the property owner often does not inform his or workers that the work they are doing is putting them in harm's way. The business owners also, as we have seen in the past, failed to provide workers with asbestos protection equipment, such as respirators and hazmat suits.
In a mesothelioma lawsuit filed under a theory of negligence, it is often alleged that defendant breached his or her duty of care by failing to adequately warn workers of a known danger and by failing to provide the required safety equipment.
Another basis of liability in asbestos cases involves what is known as negligence per se. When a building owner begins a restoration or demolition without following legally required asbestos removal protocols, his or her actions are in violation of one or more state, federal, or local municipal regulations. The fact that the conduct was not only negligent, but also illegal, can often be used to prove liability in a negligence lawsuit.
There are basically two reasons that the workers are being placed at risk when it comes to handling asbestos. It is cheaper to do the work the quick and illegal way than it is to do it correctly, and the employers know that, even if workers are exposed to the deadly fibers, it will likely take between 20 and 50 years before they develop the symptoms of mesothelioma.

If you or a loved one is diagnosed with mesothelioma in Boston, call for a free and confidential appointment at (617) 777-7777.
Additional Resources:
Boston firm has plans for Wayne's Drake's bakery, September 18, 2014, North Jersey Record
More Blog Entries:
Bostic v. Georgia-Pacific Corp.: Actual and Proximate Causation in Mesothelioma Litigation, July 21, 2014, Boston Mesothelioma Lawyers Blog