Asbestos issues plague Boston, particularly anytime a property owner delves into a renovation. The fact is, Boston is an older city and many construction materials from the last century utilized this toxic substance. Anytime those fibers are disturbed, the risk of dangerous exposure exists .
According to a recent news report form Fox 25 Boston, tenants in a Boston area apartment complex were shocked to learn that a supposedly routine bathroom renovation has created a serious asbestos exposure scare.  At this point, the Commonwealth is involved in the case, and the asbestos abatement project is suspended as an investigation is conducted.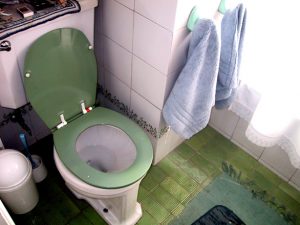 The trouble started when the landlord allegedly sent a letter to residents on April 5, 2017 informing them that renovations are being performed to make the place better, and this includes newly renovated bathrooms.  Everyone was seemingly on board with this announcement, because who wouldn't want a newly remodeled bathroom?However, tenants were then told they would have to leave their apartments for up to 10 days during this renovations process.  During this time, tenants were told they would not be able to access the apartment or anywhere else in the entire building.  They were told that their furniture would be covered to prevent it from getting covered in dust and debris.
This was not anything that sounded even close to normal renovations, and at least one tenant became concerned that this was either asbestos removal or some other type of toxic materials related issue that the building was trying to perform secretly.  This tenant reportedly called the state health department, and MassDEP issued an immediate stop work order.
As our Boston asbestos exposure attorneys can explain, asbestos abatement work cannot be completed with using certified asbestos inspectors and abatement professionals, and a plan must first be submitted and later approved by MassDEP before any work can begin. If the allegations are true, this procedure was not followed in this case.
After the stop work order was issued and the inspection began, MassDEP sent a letter to residents telling them there was an asbestos exposure risk, as there were possible violations involving improper containment of asbestos, and that dust and debris was allowed to escape the work zone contaminating surrounding area.  This, if true, is a serious asbestos handling violation.  Many of the residents said they were very concerned by this, and this is an understandable concern.
The owners of the apartment building did give a statement to reporters covering this story, saying that the company will fully cooperate with the investigation and have already moved any residents who may have been displaced to temporary housing.  However, many residents have said the temporary housing is much smaller than their rental units in the closed building.  One resident said she will be seeking legal counsel. Residents also expressed concern that they have been living in building for years, and someone should have investigated whether there was any danger of asbestos exposure prior to this recent asbestos abatement incident.
It is important to note that there have been no formal findings against the owner of the building as of the time of this article and the owner has said it will fully cooperate with officials during this process.  It should also be noted that, while some residents have said they will seek legal advice for possible asbestos exposure, there have been no claims filed at this time, as well.
If you or a loved one is diagnosed with mesothelioma in Boston, call for a free and confidential appointment at (617) 777-7777.
Additional Resources:
'Bathroom upgrades' turns out to be dangerous asbestos removal at Rockland apartment complex, May 8, 2017, By Robert Goulston, Fox 25 Boston
More Blog Entries:
School Asbestos Removal Process in Lawrence Worries Teachers, Feb. 8, 2017, Boston Mesothelioma Lawyer Blog