New England military veterans and shipyard workers face some of the highest risks when it comes to being diagnosed with mesothelioma as a result of asbestos exposure.
The Agency for Toxic Substances and Disease Registry at the Centers for Disease Control and Prevention (CDC) reports about 3,000 new cases of mesothelioma a year will be diagnosed in the United States.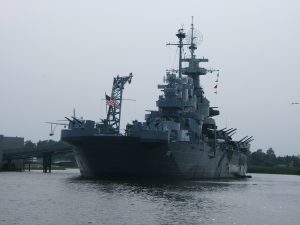 Mesothelioma is caused by exposure to asbestos, a common construction material used for decades before the deadly fiber's carcinogenic properties were fully known and disclosed to the public. The Environmental Protection Agency banned new uses in 1989. But to this day it's a material commonly found in many older buildings. Believed relatively harmless if left undisturbed, the dangers come when asbestos tiles, insulation or other material crumbles, frays or otherwise becomes airborne. The latency period between exposure and diagnosis is typically 30-40 years, with average age at diagnosis being 59 years old in the United States.
Those facing some of the highest risks of developing mesothelioma include military veterans and shipbuilders, which means military veterans and shipyard workers in New England are among those at highest risk of a mesothelioma diagnosis in the coming years.
Massachusetts Military Veterans Face Mesothelioma Risks
The U.S. military used asbestos for its fire retardant and insulating properties—making it seem like a miracle product. The military claims it did not know of the risks because asbestos manufacturers hid this information from the government to continue selling their asbestos products.
Veterans make up one-third of mesothelioma cases. Each military branch used asbestos until the 1970s. The U.S. Navy is the military branch that had the highest asbestos use. The Navy built hundreds of ships in the 20th century using asbestos, putting Navy veterans at particularly high risk of developing mesothelioma. Air Force and Army veterans were most likely to be exposed to asbestos in barracks and other military facilities, both at home and overs seas. In addition to shipbuilders, mechanics in the armed forces are also at increased risk, as asbestos was commonly used in brakes, gaskets and clutches for its heat-resistant and fire-retardant properties. It was also used in aircraft, vehicles and structures as insulation and sound proofing.
While veterans diagnosed with mesothelioma may be entitled to benefits through the Department of Veterans Affairs, it's best to consult an experienced mesothelioma veterans lawyer in Massachusetts before submitting an application. The application process can be complex and in some cases requesting disability benefits may impact your ability to make other claims for damages. While, the VA considers such cancers to be 100 percent disabling, you cannot receive money from the government twice for the same illness. The VA will consider your financial situation when the benefit is based on your income level such as a VA pension. However, your assets will not be considered.
Veterans must prove to the VA that they suffered more exposure to asbestos in the military than they did before or after their service. Applying may result in monthly benefits and VA health care. You may get lifetime medical care from any facility in the VA network. This includes world-class treatment centers in Boston and Los Angeles.
To prove military asbestos exposure for a Department of Veterans Affairs (VA) claim, you must show that at least 50 percent of the veteran's asbestos exposure occurred in the military. The veteran's asbestos exposure summary must detail military duties as well as the civilian jobs they had before and after service.If the diagnosis is service connected, the veteran is entitled to disability compensation. If a veteran dies of a service-connected illness, certain members of their family may be eligible for dependency indemnity compensation (DIC).
Application for benefits must include a letter from a medical doctor confirming illness was caused by asbestos. An asbestos exposure summary must also be submitted by the veteran or a surviving family member.
Veterans benefits are available even if your Massachusetts mesothelioma attorney also secures a sizable verdict or settlement from other liable third-parties, which most typically include manufacturers of the asbestos product.
Massachusetts Shipbuilders Mesothelioma Risks
Shipbuilders also face substantial risk. Numerous shipyards throughout New England built much of the military fleet still in use today, in many cases subjecting thousands of shipbuilders to the hazards of asbestos during the construction process, before turning the ships over to the U.S. military, where thousands of veterans have faced the risks for the past several decades. In fact, many of those ships are still in use today.
New England has a long history of shipbuilding, a vital American industry that has called Massachusetts home for more than a century. In Particular, the Bethlehem Shipbuilding Corporation built American Navy ships here for both world wars, beginning with the Victory Destroyer Plant, which was operational in Quincy from 1918 to 1920. The Bethlehem Hingham Shipyard delivered 277 ships in just three-and-a-half years of operation during World War II, and remains famous for once delivering a Navy destroyer escort ship in just 23 days. Fore River Shipyard, in Braintree, was operated by General Dynamics Corporation until 1986. General Dynamics is among the nation's leading military contractors. From Bath Iron Works in Maine, to Boston Navy Yard and Bethlehem Atlantic Works, New Englanders have played a vital role in both the nation's defense and its economy.
Seeking compensation is a complex matter after being diagnosed with mesothelioma or other asbestos-related illness. In many cases, companies facing a significant number of mesothelioma lawsuits have established trust funds, where compensation may be available in a timely manner. In other cases, mesothelioma lawsuits have forced companies out of business, and bankruptcy trusts have been established. Unfortunately, mean survival time after a mesothelioma diagnosis is only about 18 months. Early consultation with an experienced mesothelioma law firm in Boston will best determine all avenues of recovery when it comes to securing the financial future of family and  your loved ones.
If you or a loved one is diagnosed with mesothelioma in Massachusetts, call for a free and confidential appointment at (617) 777-7777.