The New Jersey Supreme Court has expanded an earlier decision pertaining to "take-home toxic tort liability," which is the assertion that companies can be responsible when their workers exposed to potentially harmful materials and take those materials home to their spouses.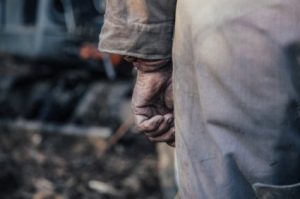 Now, in Schwartz v. Accuratus Corporation, justices ruled that potential liability can extend not just to the workers' spouse, but also to roommates and unmarried romantic partners.
The ruling was issued at the behest of a federal court which is handling a case in which a woman in Pennsylvania filed a lawsuit against a ceramics company where her husband and roommate were once employed. Plaintiff alleges she suffered severe illness in the form of chronic beryllium disease. It's a condition that affects the lungs, and similar to mesothelioma, it's caused by breathing in tiny toxic fibers and particles that are routinely found in industrial factories and other facilities. 
Plaintiff asserted she was sickened by the exposure to these particles both from doing her now-husband's laundry, but also by living in an apartment with him and his roommate in the 1970s and 1980s, where the men tracked in these particles on their clothing day in and day out.
This is the case with so many asbestos exposure incidents that later evolve into lung cancer, asbestosis and mesothelioma. In fact, it was an earlier decision in a mesothelioma lawsuit that laid the foundation for the decision in Schwartz.
In the earlier case of Olivo v. Owens-Illinois, Inc., the court ruled that an owner of land could be held responsible for injuries that were caused by exposure to asbestos by the wife of a man who worked as a welder on the property.
So that brings us to the Schwartz case, which was initially thrown out because plaintiff was not married during much of the time of the exposure. However, she frequented the apartment almost daily during the time period in question. She often did laundry for her boyfriend and later married and moved in with him. By the time the couple married, her husband no longer worked for the company. However, the roommate did. Plaintiff argued that she was exposed to the material before she married by both men and then thereafter by the roommate, with whom they shared common cleaning and laundry areas.
After the U.S. District Court dismissed the case, plaintiff appealed to the U.S. Court of Appeals for the Third District, which forwarded the question to the New Jersey Supreme Court.
Justices decided that a company does have a duty of care to protect workers from potentially harmful substances, and that this responsibility extends not just to the spouse of that worker, but also to others with whom they lived based on the take-home toxic-tort theory of liability.
This case could be significant not only in New Jersey, but any other sister courts who look to this as well. It's an important ruling in light of the fact that as we continue to see more and more asbestos exposure cases stemming from the era of the 1960s and beyond, we'll see more incidents in which exposure extended beyond what we see as the traditional, nuclear family unit. Exposure from roommates, romantic partners and others may well be the next phase of asbestos litigation.
If you or a loved one is diagnosed with mesothelioma in Boston, call for a free and confidential appointment at (617) 777-7777.
Additional Resources:
Companies on the hook when workers take home toxic material, court finds, July 6, 2016, By S.P. Sullivan, NJ Advance Media
More Blog Entries:
Rondon v. Hennessy Industries, Inc. – "Inevitable Use" Standard in Asbestos Litigation, July 2, 2016, Boston Mesothelioma Attorney Blog