This past summer, school officials in Teaticket were told that workers installing new air conditioning vents discovered what they believed to be asbestos.  After inspectors took samples and sent those samples for a microscopic analysis and confirmed there was asbestos, school officials knew they could not open on time this school year and held an emergency meeting with parents to discuss the alternatives.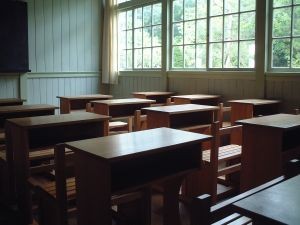 In addition to making arrangements for the students to go to other elementary schools until Teaticket in Falmouth could be cleaned up, they worked on getting the proper permits and setting up an asbestos abatement plan.  Town selectmen voted to release $300,000 in funds and an emergency amount appropriate to pay for the asbestos abatement. However, the actual cleanup cost is turning out to be a lot higher than they initially estimated. According to a recent news article from the Falmouth Enterprise, the cost of asbestos abatement is now at $813,000 and rising.   The reason for the higher costs over the initial estimates was the need to bring in environmental consultants and electricians, and they had to replace all of the floor and ceiling tiles to make the school free of all asbestos and safe for students to use once again.
This is making it very difficult for the town to fund, and also the fact that the costs keep rising are creating somewhat of a moving goal that is further complicating matters. Some are hesitant to approve a final number, as the costs keeps rising, but everyone seems to realize the necessity of having a local school that is a safe asbestos free environment for the elementary school aged children of Falmouth.
The town has $710,000 that they were planning on using to renovate the library that can now be shifted over to this school asbestos abatement project, and an additional $190,000 they can obtain from cash reserves owed by the town, bringing the allotment up to the expected $900,000 level.
As our Boston asbestos injury lawyers have seen in too many cases, there are some unscrupulous landowners who will try to avoid high costs of professional asbestos abatement and illegally hire workers to do the job without providing training, certification, or proper safety equipment.  In many cases, the workers are not made aware of the fact that they are handling deadly asbestos fibers.  They are also not aware they are going home to their families while covered in the fibers and exposing their families as well.  When a worker comes home from the job site with his or her clothes or boots sill covered with deadly asbestos fibers, lawyers will call this a "take home asbestos" case.
In order to properly abate the asbestos, the company must use workers trained and approved by the Massachusetts Department of Industrial Accidents (DIA) and follow an approved plan that also complies with all federal environmental regulations with respect to the Clean Air Act.  Any violation of this law could result in serious fines and possible criminal prosecution for putting workers and the community at large at risk.
If you or a loved one is diagnosed with mesothelioma in Boston, call for a free and confidential appointment at (617) 777-7777.
Additional Resources:
Teaticket Asbestos Cleanup Now Close To $900,000, October 21, 2016, By Ryan Bary, The Falmouth Enterprise
More Blog Entries:
Grant v. Foster Wheeler, LLC – Proof of Asbestos Defendants' Products as Proximate Cause of Injury, July 5, 2016, Boston Mesothelioma Lawyer Blog