Shares of Johnson & Johnson were down in mid-week trading after a California Jury awarded $29 million to a woman who said asbestos in the company's talcum powder products caused her mesothelioma. Our mesothelioma lawyers in Massachusetts continue to carefully follow each of these talcum powder cases and are committed to fighting for the rights of women and children who have been harmed.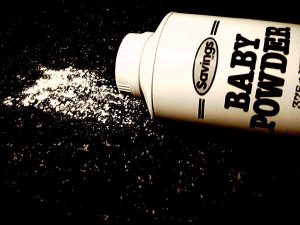 CNBC reports Johnson & Johnson is facing thousands of similar lawsuits as it continues to insist its talcum powder is safe and free of asbestos. The company said it would appeal the verdict, which occurred in California Superior Court in Oakland.
More than 13,000 talcum-related law suits have been filed. Johnson & Johnson lost a similar case in Los Angeles last year, where a jury delivers a $21.7 million verdict. The company also failed to reverse a $4 billion verdict in Missouri, where 22 women had blamed their ovation cancer on use of Johnson Johnson products. Johnson & Johnson is one of the nation's largest consumer product companies and is currently valued at  more than $350 billion.
Mesothelioma Lawsuits: Asbestos Exposure and Legal Liability
The Oakland case was the first of more than a dozen talcum powder lawsuits scheduled for trial in 2019. Each case lost by Johnson & Johnson adds enormous pressure to offer a mass settlement, while courtroom evidence continues to uncover more and more instances of impropriety on the part of the consumer-products giant.
In the Oakland case, the jury found defective baby powder was a "substantial contributing factor," to the plaintiff's mesothelioma diagnosis. Substantial contributing factor is the legal threshold in such cases. Our Massachusetts mesothelioma lawyers know it's not necessary to show a produce is the sole cause of injury. In this case, the jury found the talcum powder was defective and that the company failed to warn consumers of the health risks.  Johnson & Johnson's talc supplier, Imerys Talc America, was a codefendant but was dropped from the case after filing for Chapter 11 bankruptcy protection in the face of an onslaught of talc litigation.
The "substantial contributing factor" threshold was outlined by the appeals court in the 1991 case of Welch v. Keene Corp., 31, Mass. App. Ct. 157, which used a three-prong test for establishing asbestos exposure: Defendant product contains asbestos; plaintiff was exposed; and such exposure was a substantial contributing factor in causing injury. That test was reaffirmed in Morin v. Autozone Northeast, Inc., et al., Civ. A. No. 09-P-1816 (Mass. App. Ct. March 14, 2011), when the Appeals Court of Massachusetts overturned summary judgment, saying causation was a matter for the jury to determine.
That case involved a women who operated a fruit supplier in Hyannis for four decades, where she claimed she had been exposed to asbestos while company vehicles were having brakes repaired or replaced in a service bay near her office. She was later diagnosed with mesothelioma and died. Her heirs brought a wrongful death claim for negligence and breach of implied and express warranties of merchantability against AutoZone Northeast Inc., alleging that Defendants' products contributed to cause death.
Asbestos Damage Awards and Financial Solvency
As our mesothelioma lawyers in Massachusetts have reported, numerous companies have been forced into litigation over asbestos-related liability. Mesothelioma trust funds have been established. Companies that have sought protection through the U.S. Bankruptcy Code, have been required by the courts to establish these funds for the benefit of future victims.
Exposure to asbestos is the known cause of mesothelioma, a particularly virulent cancer that typically strikes decades after exposure. In the Oakland case, the woman said she had used Johnson's baby powder and shower powder in the 1960s and 1970s. She was diagnosed with mesothelioma in 2017, according to a report in Time magazine.
Both asbestos and talc are mined minerals. The American Cancer Society reports asbestos also turn up in the pure form of talc, which is the basis for talcum powder like that used in Johnson & Johnson's products.
An investigation last year by the New York Times suggested Johnson & Johnson feared for decades that its baby powder could be tainted with asbestos, which has also been linked to lung cancer and cancer of the larynx and ovaries. That investigation, which was conducted by the Times in conjunction with Reuters News, revealed Johnson & Johnson executives knew its talcum powder sometimes tested positive for asbestos from the 1970s into the 2000s, but did not disclose the contamination to regulators or consumers.
Traditionally, Navy veterans and shipyard workers have been among the most at risk of a mesothelioma diagnosis, as asbestos was a commonly used shipbuilding material well into the 20th Century. Those working in the construction industry or who commonly renovate or rehabilitate old residential structures, are also at significant risk. But, until the revelations about talcum powder, women and children were most often thought to suffer second-hand exposure from asbestos dust brought into the home on work clothing. The risks of talcum powder exposure are particularly troubling because the product was marketed as safe and healthy for use from infancy into adulthood.
While substantial contributing factor is a lower legal threshold than "but not for," which would require exposure to be a primary cause. However,  Insignificant or de minims exposure will not satisfy the court. In Morin v. Autozone Northeast, Inc., the court dismissed as defendant a case for liability against the trailer manufacturer, saying it could not be determined whether brakes changed during the plaintiff's tenure with the fruit company had been manufactured by the trailer company.
Conducting a careful review of the facts and circumstances of your case will best identify liable defendants and the best course of action when it comes to securing damages in the wake of a mesothelioma diagnosis. Identifying responsible defendants is best done by a Massachusetts wrongful death law firm with extensive mesothelioma litigation experience.
If you or a loved one is diagnosed with mesothelioma in Massachusetts, call for a free and confidential appointment at (617) 777-7777.
Additional Resources:
Asbestos Renovation Nightmare For Littleton Family, April 2, 2018, By Jean Lotus, Littleton Patch
More Blog Entries:
Montana Settles Asbestos Claims for $25M, Feb. 19, 2017, Boston Mesothelioma Lawyer Blog